Capital Region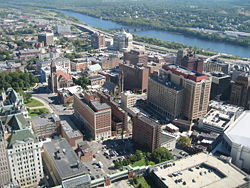 New York's Capital Region has enticed visitors for 400 years with historic sites, fabulous attractions, fun, family-friendly amenities, and exciting entertaining events.
The Capital Region in upstate New York generally refers to the four counties surrounding Albany, the capital of the state: Albany County, Schenectady County, Rensselaer County, and Saratoga County. The name (Albany) is from the title of the Duke of York and Albany, who became James II of England (James VII of Scotland). As of the 2010 census, the population was 304,204. As originally established, Albany County had an indefinite amount of land, but has only 530 square miles (1,400 km2) as of March 3, 1888. The county seat is Albany, the state capital.
The Capital Region was first settled by the Dutch in the early 1600s and came under British control in 1664.  Albany has been the permanent capital of the state of New York since 1797.